Your Appointments List contains all of the appointments that your user account has included in its filtering and has permission to see. To add, change or remove appointments, open your appointments list from the Main Menu, by tapping on Appointments.
From here, you can scroll through your past, present and future appointments. Appointments in this list can be opened and changed, new appointments can be added, and this list can also be fine tuned with filtering.
Creating a new appointment
Start by tapping on the Add New (+) button on the top-right of the appointments list.
You will see the appointment detail screen.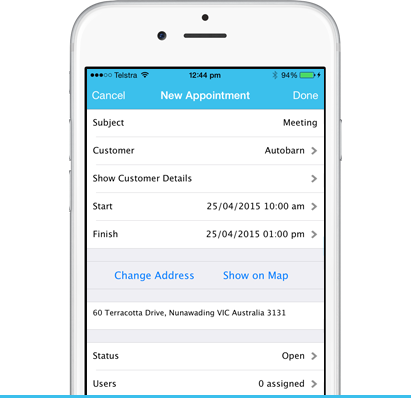 Subject

– This is the title of your appointment and will be shown in your appointments list. This field must be completed in order to save the appointment.
Customer

– If your appointment is with a customer, tap on this field and choose the customer to link it. Once linked, you will see an option to

Show Customer Details

below, which is just a quick link into the customer's detail.
Start and Finish

– Your appointment must have a start and finish time in order to save the appointment.
Change Address

– Tap on this area to show the separated address fields for manual entry. If your appointment is linked to a customer, you can pick from their addresses and populate the appointment address quickly. Once an address is linked to your appointment, you can choose the

Show on Map

option to view the location in the Apple Maps app. Having an address is not mandatory, but if you are grouping your appointment list by

Suburb

or

Postcode, you will want to enter these details in.
Status

– Choose the Appointment Status – eg. Open, Closed.
Users

– If you want to explicitly assign the appointment to one more users, use this option.
To save the appointment, tap Done up the top-right, or go further and make your appointment into a recurring appointment.