You can create "templates" of items and quantities to be used in a sale, to help rapidly enter items that are commonly ordered together.
Templates can be set to apply just to a specific customer (for example, it might be the products they frequently order), or all customers.
To create, modify and delete your Sale Templates, go to the Administration menu, and under Sales, click on Sale Templates.

Creating or Editing a Sale Template
If you are creating a new template, click on

Add Template. Give the template a name, and choose whether it applies to one customer or all customers.
If you are looking to modify an existing template, use the Customer and Template options to find your template.
Below is an example of an existing template called Popular Products, which applies to all customers: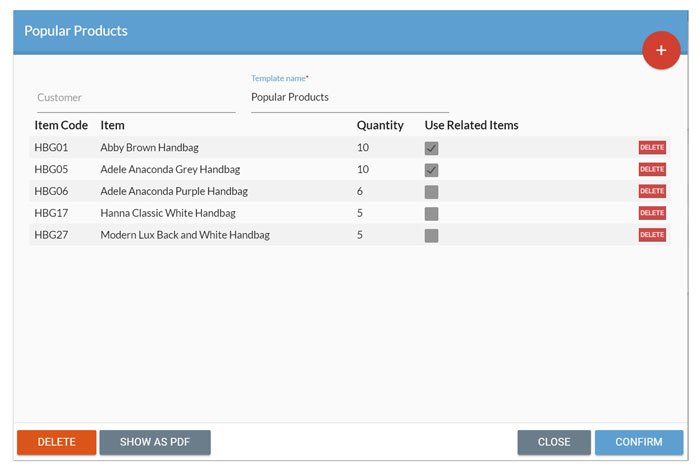 In this example, there are 6 items in the template, each with a specified default quantity.
Edit Template

– Change the name of the template.
Delete Template

– Remove the template from SalesIn.
Add Item

– Adds a new item to the template. Start typing the first three letters of the item name or code that you are looking for. A quantity above zero must be entered in. Click on the green tick to add this item to your template.



Important – Setting up templates for use across multiple item locations

When you are adding an item to a template, you will notice it belongs to a specific location (you will see the name of the item prefixed by the location name). Users won't see items in their template unless they have access to that location.
Eg. You have Warehouse A, and Warehouse B, and stock an item called Cups in both locations, however your two reps only have access to either Warehouse A or Warehouse B, because you want them to sell out of their own stock locations – fair enough. You still want them to use the same templates though, but because you set up the templates with items from Warehouse A, your Warehouse B rep can't them, even though those items are stocked there.
The solution is to tick the Use Related Items box when adding items to a template. The template will then populate with the items that were previously missing, and your Device Specific Preferences will take over.