On this Page: 
Accounts & Billing

User Accounts
Shows all users activated and deactivated on your SalesIn account. Including their username, full name & locations they have access too. 

Clicking on the Device button at the end of each user, will show if they are logged into an iPad or iPhone as well. If for some reason they are unable to log out of their device and need to login to another, you can:
Click on Device for their user
A pop-up will appear, on here, you can click Clear License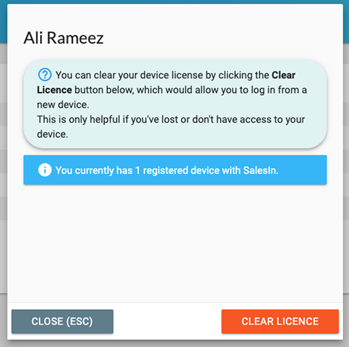 NOTE: If you clear the license, and they have not synced the sales from the previous device; those sales will be lost. 
Plans & Billing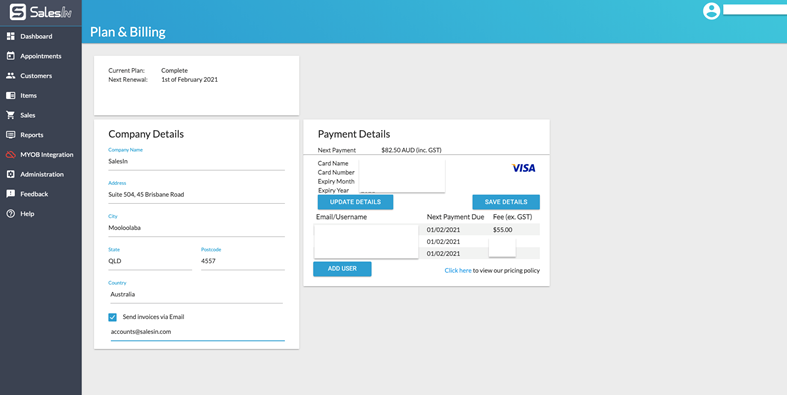 Company Name - This is your company name for billing purposes.
Company Address - This is your companies billing address, this can be a PO box.
Send Invoices Via Email - If you would like your invoices to be emailed to you, tick this box and set an email for the invoices to be sent to. 
Next Payment Amount - This is the next amount that is going to be charged. If you are paying monthly, this amount may change if you have added an additional user during the month. 
Card Details - Will show a brief of what the card details are on file. Credit card is currently the only payment method we accept. 
Update Details - If you want to update your credit card details, select this button and it will allow you to enter new card details. 
Save Details - If you change anything on this page (eg. Address, Company Name or Card Details), you will need to click Save Details before these changes are saved. 
Email/User Next Payment Date - If you pay annually, the dates that the invoices are paid will be different. This is where you can see when a payment is due. If you pay monthly, all of these dates will be the same. 
Your Invoices
In here, you will see all invoices that you have been charged from SalesIn. Monthly/Annual Subscriptions and B2B charges as well.